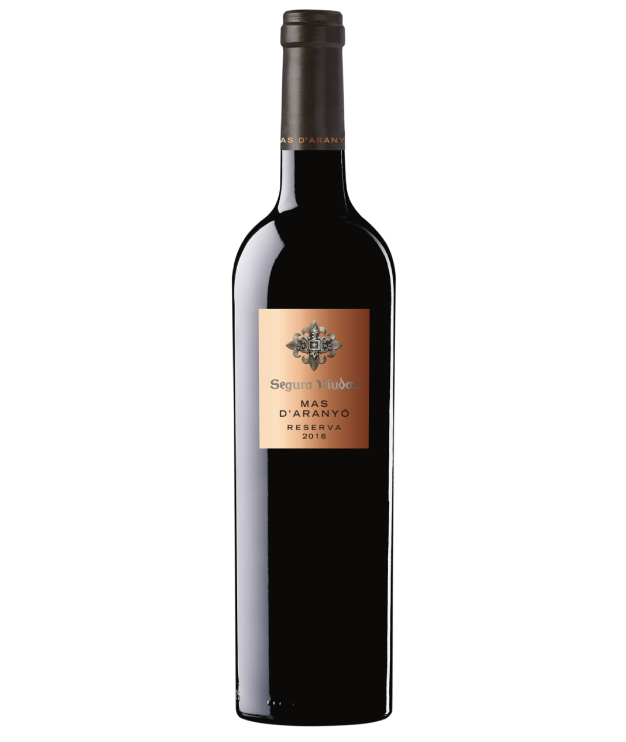 Mas D'aranyo
– Gold Medal. Cinve. Huelva, 2016 – Silver Medal. Vinalies Internationales. Paris, 2013 – Bronze Medal. Decanter World Wine Awards. London, 2013.
Tasting notes
This red wine has a deep cherry-red colour with bluish tones. It has complex aromas, notably of ripe fruit (prunes, figs). There are also touches of cocoa in a spicy, smoky, menthol background. In the mouth it is well structured and full of character, with a good presence of sweet tannins that point to good bottle ageing. Its finish in the mouth is long and tasty, with hints of menthol notes and licorice.
In the cellar
The boxes of grapes are emptied on a selection table where leaves, unripe and over-ripe grapes are removed. After complete destalking, the grapes are transferred to 7,500 litre wooden vats equipped with temperature controls. The cap is submerged every day by hand, and brief overpumpings are carried out, maintaining the fermentation temperature at 25-28 ºC. The wine is then aged in new French and American oak barrels.
At the vineyard
We constantly monitor the ripening process, not only checking the grapes' sugar and acidity levels but also, and most importantly, the colour and flavour of the skins. Once our oenologists are confident that the grapes have reached the optimum point of ripeness, the manual harvest begins, the grapes being transported to our winery in 25-kilo plastic crates to ensure they remain as intact as possible.
Product Detail
Alcohol percentage %

14,5% vol.
Love in our winemaking
Process
A century heritage
Detail driven in our winemaking
The process of making each Segura Viudas' cava and each wine involves time and dedicated people. But above all, we use techniques and traditions that have developed throughout our long history. Discover them.